Welcome to Májek website!
About us
In 1974 a new folklore ensemble came into existence. Grown-up members of a children ensemble brought along a very large coverage of treated folklore material.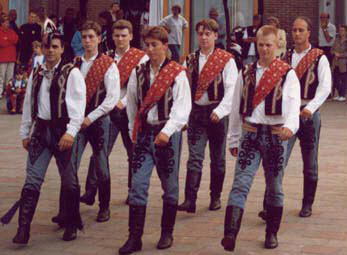 First years of existence showed that the choice of material had to be narrowed and thus folklore from regions of Luhačovické Zálesí, Moravian Wallachia and Lesser Haná was established. Since it was not possible without music, our ensemble has always cooperated with a music ensemble and its leader. Let us mention Ladislav Prčík or František Černý, chosen at random.
Májek´s programme can be seen on festivals in the Czech Republic (Brno, Spa Bělohrad, Strážnice, Šumperk, Klatovy), but it has also played and danced abroad (Bulgaria, Holland, Croatia, Italy, Yugoslavia, Hungary, Germany, Poland, Portugal, Austria, Rumania, Slovakia, Sweden and Great Britain). Májek has performed in some of the countries repeatedly.
But the ensemble´s activities do not include only performing and training songs and dances. Recently it has also been organizing e.g. children singing competition in Brno, regular cake-tasting, Christmas concerts, dulcimer ceilidhs with outstanding personalities of folklore movement etc.
It´s all their fault….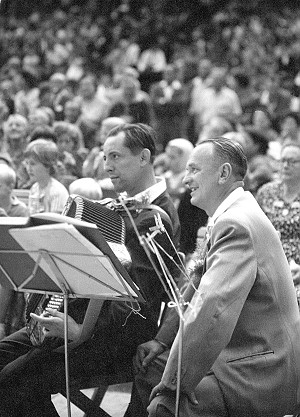 Adolf Pištělák and Oldřich Krejčiřík
Yes, these two men who can be seen in the photograph are blamed for all this. They caused that Maruška Kucháriková, Dáša Vlachová, Táňa Kožušková, Jana Grmelová, Dáša Vjaterová, Hana Pekáčová, Jura Marhold, Jarek Srnec, Luboš Jeřábek, Broňa Vlach, Radek Šimek, Radek Semotam, Milan Zelinka or Pavel Kříž did not leave the children ensemble when they were 15 (as was the habit) but became founder members of a new Brno ensemble which still bears the same name – Májek.
---
The ensemble is a member of:
| | |
| --- | --- |
| - Czech National Section of CIOFF | |
| - Folklore Association of the Czech Republic | |
| - Friends of Folklore Association in Brno | |
---
Contact of the ensemble:
Chairman / Milan Zelinka / GSM +420 603 420 017
 
Address
/ Folklore ensemble Májek
 
/ Charbulova 3, 618 00 Brno, Czech Republic
Phone / fax / +420 548 535 765
E-mail / majek (at) centrum.cz